1) How it all started…..
I had always wanted an Addams Family pinball machine. I have no idea when I played one for the first time, but I do remember thinking having played it just the once "how do I get that hand to come out again?"
I'm no pinball freak/wizard/expert. I've only played pinball a few times (once a year, on average, would be overstating the facts) but there was always something about The Addams Family pinball that kept me intrigued.
I first toyed with the idea of buying a pinball machine for myself in 1996. But didn't. I got as many brochures as I could from gaming providers at that time and read the descriptions of all the pinballs on offer, but still kept coming back to and focusing on The Addams Family pinball. But still I didn't invest the 4,150 DM for a new machine at that time.
Fast forward 12 years. I've got the house, the wife, the kids and a surprise bonus from my employer……and still an itching to acquire a pinball machine. So, first stop, Ebay.
To cut a long story short, I found the following TAF (The Addams Family) pinball machine on ebay:
Zum verkauf steht hier ein traumhafter KULT FLIPPER ADDAMS FAMILY – natürlich ist die wolke auch vorhanden !!!
For sale a wonderful cult Addams Family pinball – with cloud, of course
die maschine wurde aufwendig überholt alle verschleißte gegebenenfalls erneuert ( gummis und leuchtmittel natürlich auch )
the machine has been extensively restored, all worn parts replaced where necessary (rubbers and lamps included of course)
ca. 18 stunden hatt die überholung an zeit in anspruch genommen !!!!!!!!!!!!!!!!
the restoration took around 18 hours
die flipperarme haben volle kraft ,
the flippers have full power
die dot matix ist einwandfrei ,
the dot matrix has no faults
der flipper verfügt über einen euro münzprüfer , zur zeit eingestellt auf frei spielen
the pinball has a Euro coin mechanism, which is currently set to free play
die spielflache wurde gereinigt und mit spezialwachs versiegelt .
the playfield has been cleaned and sealed with special wax
die plastikteile sind ohne beschädigung / spielfeld keine abspielungen
the plastic parts are not damaged / the playfield is not worn
es handelt sich um ein Privatverkauf , somit gibt es keine Ansprüche oder Rückgabe des Flippers. Versandkosten übernimmt der Gewinner dieser Auktion, Ebay übernehme ich..

abholung und probespielen natürlich gerne gesehen …
versandkosten 90,- €uro, zahlung und abholung innerhalb von 7 tagen , bei fragen 016095676982
Attached were the following photos: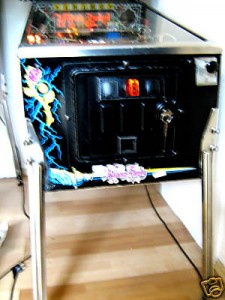 I made a bid on this pinball and won it for 1,630 Euros.
This blog is about what happened next……
The intention of this blog is to take the reader through my learning process (as I have no idea what I'm doing – yet), what I did, why I did it and how I did it. My intention, as you will see, is to restore this pinball as best I can with the help of the world-wide community existing on the internet. I will endeavour to investigate the best way of accomplishing a task and report on the task, summarising my results.
Hopefully at the end of the day, this will result in a document complimenting the vast amount of excellent information already available on the internet on pinball restoration and maintenance.
Enjoy!